Hindustan Zinc Reaffirms its Commitment towards Safety during 52nd
2 min read
National Safety Week
Udaipur, 13 th March 2023: Hindustan Zinc, India's largest & only integrated producer of Zinc,
Lead & Silver, value safety as a fundamental element in the way they conduct their business. To
reinforce the message that Safety comes before productivity, the company observed 52 nd National
Safety Week under the theme 'Our Aim – Zero Harm'. A Series of sensitization workshops
were conducted to celebrate 52 nd National Safety Week for the employees, business partners
and the community around all its operational units.
The Safety Week celebration witnessed various government officials coming forward to
support Hindustan Zinc to spread awareness about Safety First Culture. The company
conducted a safety rally, training sessions, Nukkad Natak, and various competition like
poster making, poem recitation & slogan writing to bring light to the safety measure and to
make the communities vigilant about the possible accidents.
Furthermore, to tackle the safety hazards, the company trained the communities around its
operations about Safety Standard Gap Assessment, emergency response and safe operating
procedures. The objective is to identify those risks and implement controls to prevent or
mitigate the potential impacts.
Hindustan Zinc, a Vedanta Group company, believes that safety of its people and the
communities where they operate must always come first. The company has also been
recognised by S&P Global Corporate Sustainability Assessment and ranked 3 rd Globally and
1 st in Asia Pacific Region in metal & mining sector for the steps taken under Environment,
Social and Governance.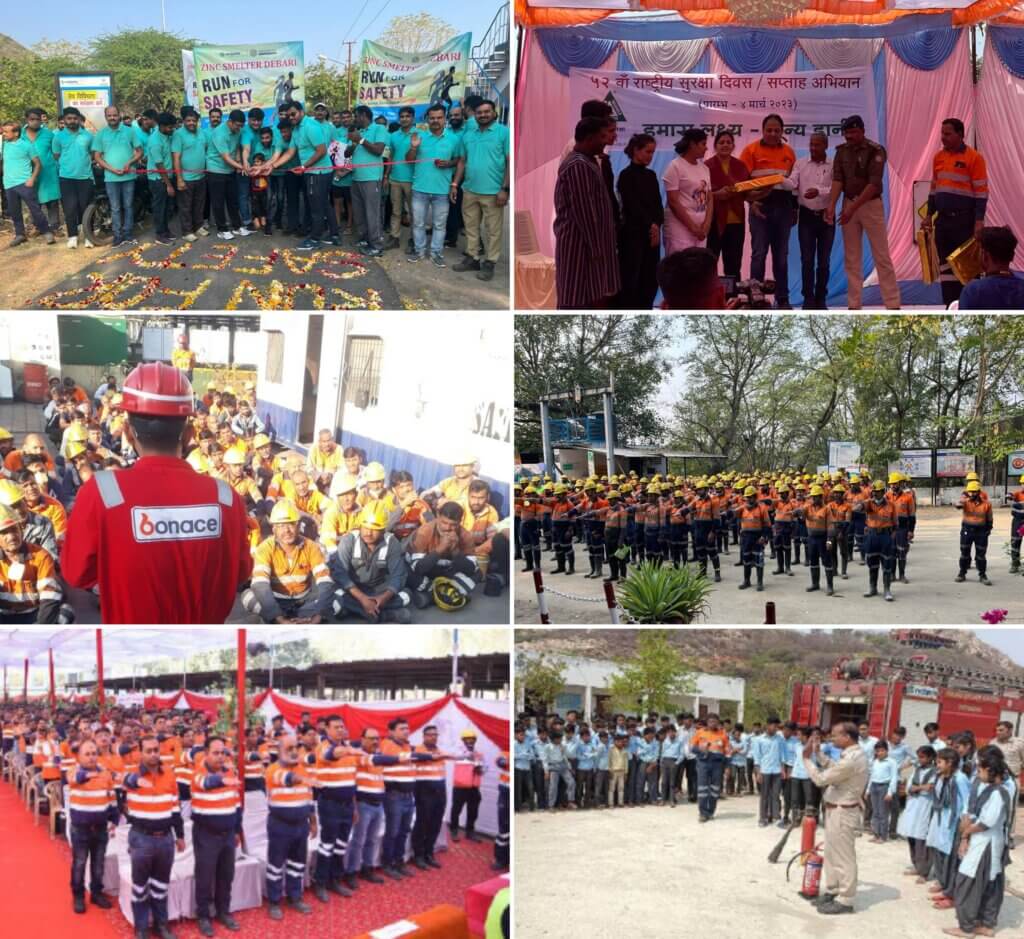 About Hindustan Zinc Limited
Hindustan Zinc, a Vedanta Group Company, is one of the world's largest and India's only
integrated producer of Zinc-Lead and Silver. The Company has its headquarters at Udaipur
in the State of Rajasthan where it has its Zinc-Lead mines and smelting complexes.
Hindustan Zinc is self-sufficient in power with captive thermal power plants and has
ventured into green energy by setting upwind power plants. The Company is ranked 1 st in
Asia-Pacific for the fourth consecutive year and globally 3 rd in S&P Global Corporate
Responsibility Assessment in 2022 amongst Mining & Metal companies. Hindustan Zinc is a
certified Water Positive Company and is the only Indian company to be recognised at the
S&P Global Platts Metal Award 2022 and has won the two prestigious awards for 'Industry
Leadership Award – Base, Precious and Specialty Metals' Award and 'Corporate Social
Responsibility' Award.
The company takes pride in having some of the best-in-class people practices and
employee-centric initiatives, which have certified Hindustan Zinc as – 'Great Place to Work
2022', 'Company with Great Managers 2022' by People Business and the People-first HR
Excellence Award.
As a socially responsible corporate, Hindustan Zinc has been relentlessly working to improve
the lives of rural and tribal people residing near its business locations. The company is
amongst the Top 15 CSR Spenders in India and are currently reaching out to 1.4 million
people in 234 villages out of which 184 in Rajasthan, and 34 in Uttarakhand. As a market
leader, Hindustan Zinc governs about ~80% of the growing Zinc market in India.
Learn more about Hindustan Zinc on -https://www.hzlindia.com/home/ and follow us
on LinkedIn, Twitter, Facebook , and Instagram for more updates.